Blog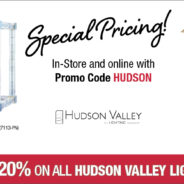 Save 20% on all Hudson Valley Lighting fixtures!
In-Store and online with Promo Code HUDSON
November 14 through December 4, 2017!

Hudson Valley Lighting is located in New York's real Hudson Valley, and it is an endless source of inspiration for their designers. From the cosmopolitan glamour of Manhattan to the industrial grit of 19th century riverside factories and the unspoiled botanical beauty of the surrounding area, the design possibilities are exciting and varied. Savvy Hudson Valley customers insist on superior craftsmanship and style for their lighting dollar. These heirloom fixtures, made with high-grade materials in impeccable forms, will look beautiful for generations to come.
*Offer cannot be combined with other coupons/discounts/promotions and/or builder packages. All Sales Final on Display/Floor Models. Sale ends December 4, 2017.