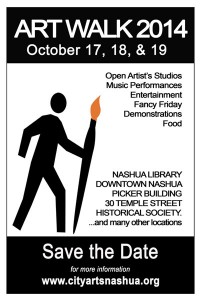 ArtWalk Weekend 2014, Nashua's premier arts event, runs from Friday evening, October 17 through Sunday evening, October 19, and features open studios and galleries, demonstrations, musical entertainment, and children's activities, something for everyone. Check out the ARTWALK 2014 website
Just Lights is thrilled to be hosting local Londonderry artist Susan E. Hanna, whose work includes landscapes, coastal scenes, garden scenes and portraits of people or homes.  She enjoys painting en plein air (outdoors) but also spends time in her studio for portrait work and private lessons.
Please stop by to see Susan's beautiful work and also learn how lighting can add beauty to your home.